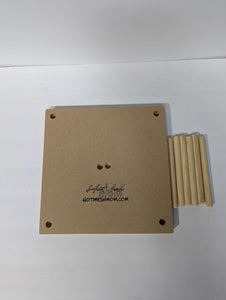 Ribbon Spool Board - 4 spools (plus 2 in middle)
Ribbon Spool Boards are cut from 3/4" MDF for the smooth edges and strong durability.

The dowels are made to be snug. Here is our YouTube video to help demonstrate how to assemble the dowels. You don't want them popping out when using. https://youtu.be/kLDnOaEdfw4 
Never received my order it's been a month.
I never received my order , it's going on a month this is the reason I hesitate to order from a new seller , my payment was taken right away that's what makes me so upset that they took advantage of a new customer.
Ribbon Spool Board
Game changer for me. If you have a crafting mess on your table like me, this will help keep your ribbons organized. Great product.
Just What I Wanted
I purchased 2 of these. I couldn't get the dowels to fit, but guess what there's a you tube for that! Kari sent me a link and I now have nice tight fitting dowels in my spool board. I'm sure these will save us so much time.
Ribbon Spool Board
This is the tool to have when making wreaths. It is so handy.