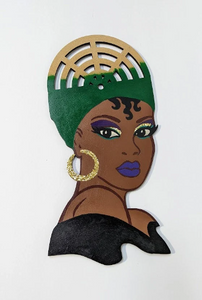 Mardi Gras Diva Scarf Wreath Rail - Painted
This is our Diva scarf wreath rail in Mardi Gras colors. The head part is for adding mesh and/or ornament balls to complete the look.
NOW you can get her looking left or looking right just like the picture. Just let us know in the personalization part of the order.

Wood rail is cut from 1/4" MDF. Please leave Scarf, Earring, and lip color choice in comments. If no personalization, she will come as pictured.

other diva's are here: www.divawreathrail.com

Extremely beautiful. Great detailed work. Love it.
Awesome
I Love ❤️ it the Colors are Mardi Gras. I can't wait to see the finished product. Will get to it the weekend.
Diva's are so pretty.
I love the Diva's that you make their gorgeous. Can't wait to make them.