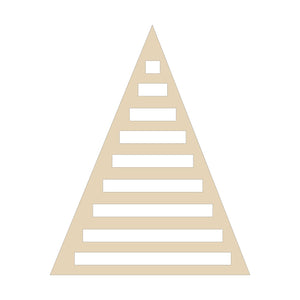 Tree Wreath Rail - 20"
Tree Wreath Rail great for Christmas. Finish the piece with mesh, ribbon, burlap or florals.
Wood blanks are cut from 1/4" MDF and comes unpainted.
Unit measures 20" x 20"

Note: This piece can also be used as a carrot, ice cream cone, Santa hat or candy corn!

Holes for Hanging will be added to each end for optimum crafting options! 
Love this!
I'm love this tree rail because if I'm not up to putting out a lot of decorations, this will be perfect. It is very quality made and shipped perfectly! I would definitely purchase again!
Tree rail
It is well made like all the rails are
I cant wait to make something with it