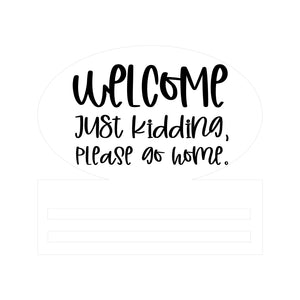 Welcome, Just Kidding Oval Wreath Rail
All blanks are cut with a professional grade laser cutter from 1/4" MDF.
These Printed Rails - are sign and rail in one.
Rail measures:Â 18" x 18" OR 12" x 12"Â 

New to wreaths
Hot Mesh is making it very easy for me to get going! Everything I need, cause I cannot put anything together!
Happy rails
I haven't made a wreath yet but I'm very happy with the rails I'm working on the just kidding rail now it's for my daughter who lives in Texas