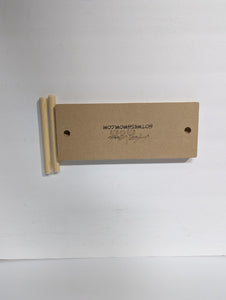 Ribbon Spool Boards - 2 spools
Ribbon Spool Boards are cut from 3/4" MDF for the smooth edges and strong durability.

The dowels are made to be snug. Here is our YouTube video to help demonstrate how to assemble the dowels. You don't want them popping out when using. https://youtu.be/kLDnOaEdfw4 
Ribbon spool board
Great product. Glad I purchased!
Great product
Great Product. Keeps the ribbon off the floor and easily accessible!
Love it 💕♥️I don't know how I did w/o it
I saw this on the Wreath of the Month Club with Julie Siomacco and fell in love with it. It keeps my ribbons off the floor, which is where they normally would be. It even holds 2- 50 yd rolls of ribbon which is awesome 😎. Thank you Hot Mesh Mom for creating an item like this and getting it to me so quickly 🫶🏻🫶🏻
Ribbon Spool Board
I saw this neat tool on Southern Charm Wreath tutorial. I posted a question asking where I could get one. Someone responded with the name of your business but I lost it. All I could remember was "Mom"! Anyway, I kept searching until I found you! I love this tool! It helps keep my ribbons easily accessible and away from my dog's prying nose and paws! Thanks "Hot Mesh Mom"! You rock!
Ribbon 2 spool board
I can't seem to get the spool holder sticks into the board. The ends are too big. All other products ordered are fine.
Thank you Roberta Bouts