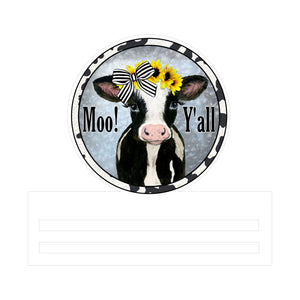 Cow Moo Y'all Printed Wreath Rail
Wreath rail + sign all in one. No sign attachment. It's all one piece.
Add mesh, ribbon or florals to complete the look.
Avoid direct sunlight and weather conditions that will ruin your piece if not taken care of.
Y'all Cow
I love the Y'all cow wreath rail! Even tho it is the small version, it fits perfectly on my pantry door!! It was so easy to decorate, I love it!!
Cow Moo Ya'll printed wreath Rail
received in excellent condition, have not used yet.
Moo cow
It is great and my daughter loves it!
They have a farm with cows. So he does a lot of milking. Thank u again for replacing it.