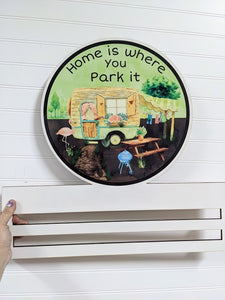 Home Camping Printed Wreath Rail
Wreath rail + sign all in one. No sign attachment. It's all one piece. 
Add mesh, ribbon or florals to complete the look.
Avoid direct sunlight and weather conditions that will ruin your piece if not taken care of. 
Rails
I got several rails from you, I love them all. I have not done any yet, finishing wreaths for people, but I'm planning on it soon. I'll definitely post when done.
Camping is fun
I made this for a friend and when they are camping they put it on h trailer door.
Home Camping Printed Wreath Rail