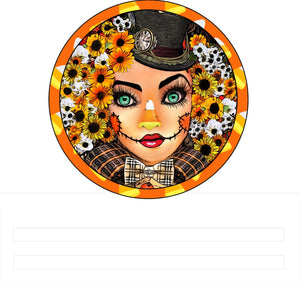 Candycorn Scarecrow Halloween Woman Wreath Rail
This is our printed design on the wreath rail base. It's all one piece so no sign to attach.
All blanks are cut with a professional grade laser cutter from 1/4" MDF.
Candycorn Scarecrow
I just love the bright colors. Can't wait to make her for the holidays. Always love Kari and Richard's designs. Hot Mesh Mom is number 1 in my books.
Picky.
I Like it, as described and working on it now, bright and colorful.