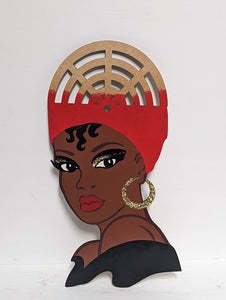 Queen of Hearts Diva Scarf Wreath Rail - Painted
This is our Diva scarf wreath rail in red, black, and gold colors for Valentine's Day. The head part is for adding mesh and/or ornament balls to complete the look.
NOW you can get her looking left or looking right just like the picture. Just let us know in the personalization part of the order.

Wood rail is cut from 1/4" MDF. Please leave Scarf, Earring, and lip color choice in comments. If no personalization, she will come as pictured.

Availiable in different skin colors. please let us know how we can accomodate another color for you. 
other diva's are here: www.divawreathrail.com

Beautiful. Great detailed work. Love it
Loving my ladies
My Order came out wonderful. I am really happy I had you paint them for me . Yes I could have painted myself . But, I would have had to buy everything to complete the task that you did . So thank you , for me it took less time for you to paint them than me to go through the whole process .